THIS WEEKEND
A Place to Connect
Capri Christian Church is a vibrant community that wholeheartedly embraces God and embraces people. We strive to create meaningful connections as we explore the wonders of Jesus and embark on this journey of life together. Join us at Capri Church and experience a place where you can truly connect. Plan your visit today.
Our Mission & Vision
Our vision and mission is to help connect people to Christ and Community
We strive to save the lost, pastor the saved, train the pastored, and mobilize the trained. Join us on this journey towards a deeper relationship with Christ and a stronger sense of community.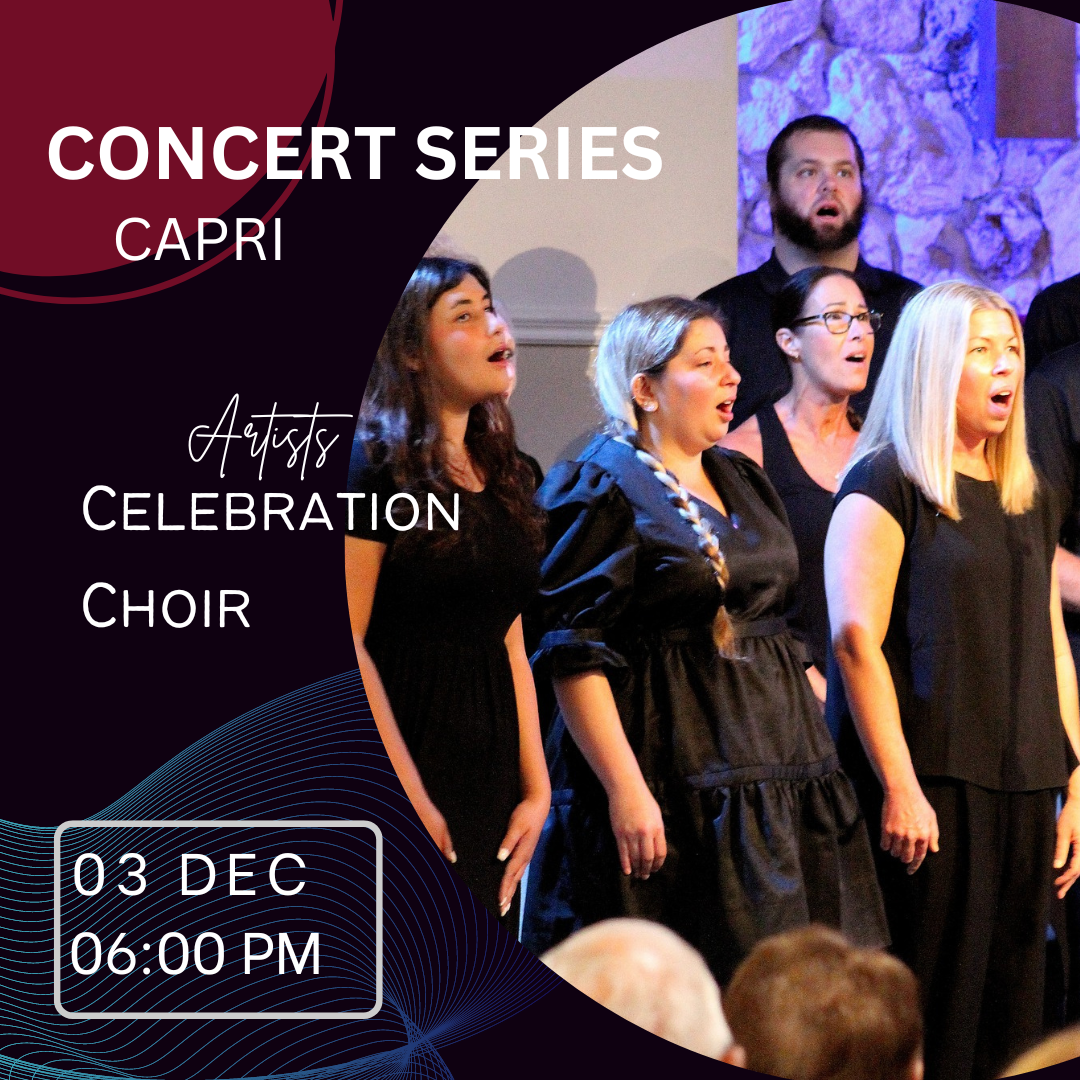 Hope Awakes In Bethlehem
Join us at Capri Christian Church for an extraordinary evening immersed in the soul-stirring melodies of the  Capri Celebration Choir. On Sunday, December 3rd at 6 PM, be transported into the heartwarming rhythms of Christmas as we unite in the true spirit of the holiday season. Experience the enchantment of a live nativity scene unfolding in the midst of the choir's uplifting performance. Come together as hope awakens in Bethlehem, embracing the boundless joy and wonder that Christmas brings.
Men's Breakfast Fellowship
Join our Men's Breakfast Fellowship at CAPRI CHRISTIAN CHURCH! Every first Saturday of the month at 8:30 AM, our breakfast enthusiasts gather in the Fellowship Hall for a delicious feast catered by Cracker Barrel. You won't be disappointed as your taste buds do the happy dance! To be part of this epic culinary adventure, simply contact the church office and add your name to the list. Get ready to ask our wise pastors all your burning questions during our Q&A session filled with enlightenment and laughter. Bond with these spiritual powerhouses, discover their quirks, anecdotes, and secret talents, all while nourishing your body and soul. Don't miss out on this holy convergence of food, fellowship, and fun!
Pastor Curt's Famous Beans
Pastor Curt's Famous Beans are cooking up a storm at CAPRI CHRISTIAN CHURCH! Get ready for a night of delicious food, laughter, and unforgettable gift swapping. Pastor Curt's got the beans covered, but he's counting on you to bring the cornbread or dessert to make this meal complete. And hey, if you're up for some hilarious surprises, join in the White Elephant gift swap! Just remember, you've gotta come prepared with a 'gag gift' that's already wrapped. Let's make this night one for the books!
C is for COOKIE
'Tis the season for holiday baking, and nothing brings us more joy than indulging in Christmas cookies. And what better way to showcase the abundance of delightful recipes you've collected than a festive night of cookie swapping organized by our Women's Ministry? Join us at Capri Christian Church and immerse yourself in a Christmas cookie extravaganza that is simply irresistible! Don't miss out on the cookie madness – it's time to celebrate the sweetest tradition of the season.
Christmas Eve Times
Christmas Eve at Capri Christian Church is going to be an extra special day to celebrate with our community! Join us for our regular scheduled worship services at 9 & 11:15 AM, and don't miss our community candlelight services at 3, 4:30, & 6 PM. Come together with us as we celebrate this joyous occasion and spread the light of Christmas.